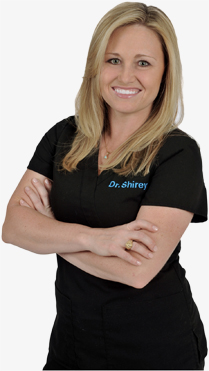 Meet Dr. Hollie Shirey
The Infinity Dental Care team is led by Dr. Hollie Shirey, a native Texan. As a Terry Scholar at Texas A&M University, she earned a bachelor's degree in Biomedical Science and graduated magna cum laude with University and Foundation Honors. She received her Doctor of Dental Surgery degree from the prestigious Baylor College of Dentistry, graduating in the top quarter of her class and earning the Quintessence Award for Clinical Achievement in Periodontics. While in dental school, Dr. Shirey served as a class officer and was a member of several student organizations.

Following her graduation, Dr. Shirey attended the Centro Panamericano de Idiomas school in Costa Rica to continue her study of the local culture and the Spanish language.

Dr. Shirey was recruited by her former professors to return to Baylor College of Dentistry in 2006 and serve as an assistant professor, teaching operative dentistry. She was a part of a team of professors representing six decades of dental excellence, working together to improve dentistry and train future dentists. During this time, Dr. Shirey also worked in private practice alongside several general dentists and specialists.

In 2009, Dr. Shirey left her teaching position to pursue her dream of opening a private practice that would provide unmatched personalized care at the forefront of the dental industry.

Dr. Shirey has a passion for people, and enjoys working hands-on to improve the quality of life of those around her. For years, she has been volunteering with colleagues and patients at the Dallas Life Foundation and at the Mission East Dallas clinics, improving care and helping make a difference in her community. For eight years, she travelled to the Texas-Mexico border with a group of more than 100 dentists, hygienists, and students to provide dental care, education, and to share the story of the grace and love of God.

Dr. Shirey is an active member of Watermark Community Church, where she leads a group of fourth- grade girls each Sunday, and enjoys participating in a mentoring program through Mercy Street Ministries.

Dr. Shirey is deeply grateful for all of the people – colleagues, family, friends, and loyal patients – who have helped to make Infinity Dental Care possible!